Online sales have ended, but tickets are still available at the door! $10 cash (card accepted with $2.22 fee). Enter through the Burgundy Room when you arrive, and be sure to pick up a free Oracle to guide you through your experience: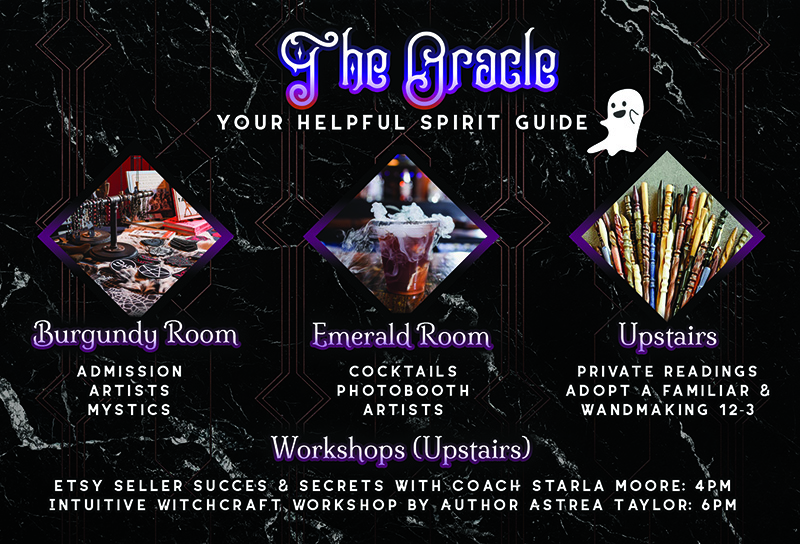 On October 27th, 2019, spend your Halloween weekend at the Makoy Center from 11am-7pm for a day of Artists, Mystics, Wine & Spirits! $10 admission open to ALL (online & at-door), witchlings and sorcerer apprentices 10 & under are free.
Admission includes…
---
Over 80 Artists & Mystics
Any female-identifying artist and/or mystic, particularly who dabbles in the occult, the esoteric, the bizarre, the dark, the misunderstood, is invited to apply as a vendor. Male + female partnerships & teams are more than welcome to apply, as well as artists who identify as non-binary. We provide 8'x10′ booths, complete with a clothed table and chairs. There are also two private rooms for sale, which are ideal for psychics, spiritual healers, and other services.
---
Delightful Spirits
The exhibitor's hall will feature a cash bar with refreshments, alcoholic and non alike. We can't wait to unveil a signature potion courtesy of our Lake Witch & her coven cocktail collection. For a sneak peek, give her a follow on instagram @bartenderwitch
---
Guest Speaker, Starla Moore
Join world renowned jewelry designer, business coach, and pack leader of the Handmade Alpha Academy – Starla Moore! She will be presenting two unique live presentations to motivate and inspire you to find your purpose, as she spills her personal success secrets and the mindset that can drive any individual to achieve their creative dreams. She will also be giving away TWO full-ride scholarships to Handmade Alpha Academy, each valued at $1,997. If you've ever had a dream that you feel too afraid to chase – these unique presentations are for you.
---
Intuitive Witchcraft Workshop by Author Astrea Taylor
Astrea Taylor is the author of the forthcoming book Intuitive Witchcraft: Using Intuition to Elevate Your Craft (Llewellyn, April 2020). She also writes for the Blessed Be Box and blogs as Starlight Witch for Patheos Pagan.
Join her for a workshop about Intuitive Witchcraft, a form of Eclectic Witchcraft that uses energy awareness, intuition, and whatever correspondences and tools feel right for the magical work at hand. With these, the intuitive witch can craft a practice that's both unique and deeply meaningful. Participants will be able to create a free sachet bag to help them align with their intuition.
---
Meet Your Familiar
A Familiar is believed to be a supernatural entity that assists witches in their magickal practices. This spirit typically takes the form of an animal.
Our "Adopt-A-Familiar" booth exists solely as a benefit for the World Wildlife Fund, and we have chosen to narrow our focus to the rainforest fires in Brazil.
Come donate what you can spare, and you will get a fun assessment to discover your special Familiar! For $20 or more, you will also receive a pendant depicting your animal. Fun perks for donating even less & 100% of your donation goes to the fund, no tricks here!
---
Halloween Festivities (For All Ages)
Trick-or-Treat: Though entirely optional, we invite you to come in costume! You'll be greeted at the admissions table with a complimentary bag and map featuring all vendors participating in trick-or-treat. These vendors will have an assortment of complimentary goodies to share, and ask only in return that you take a moment to admire their craft. Consider supporting them further if you like what you see!
Crafting Circle: Wandmaking and other crafts, suitable for all ages! All workshops are included with admission so no fee will be collected, but we are also accepting optional donations for one of our sponsored endangered species at World Wildlife Fund.
Costume Photobooth: Courtesy of photographer Oliver Momo Urdaneta, strike a pose at our complimentary photo booth!
---
More magick & mischief to be announced as the wheel of the year turns! Find us on Facebook, Instagram, Tumblr & Twitter for updates as they come!